---
Tickets Are Available From
Orchestra London Box Office
Credit Card
General Admission single ticket: $30
Student Admission single ticket: $15
(519) 679-8778


Mail Order
Serenata Music,
104 Regent St.
London,ON,
N6A 2G4
Cash or Cheque.
General Admission $30
Students $15
Group rates for Music Teachers and students are available by contacting Serenata Music by email or telephone (519) 433-8332
Featured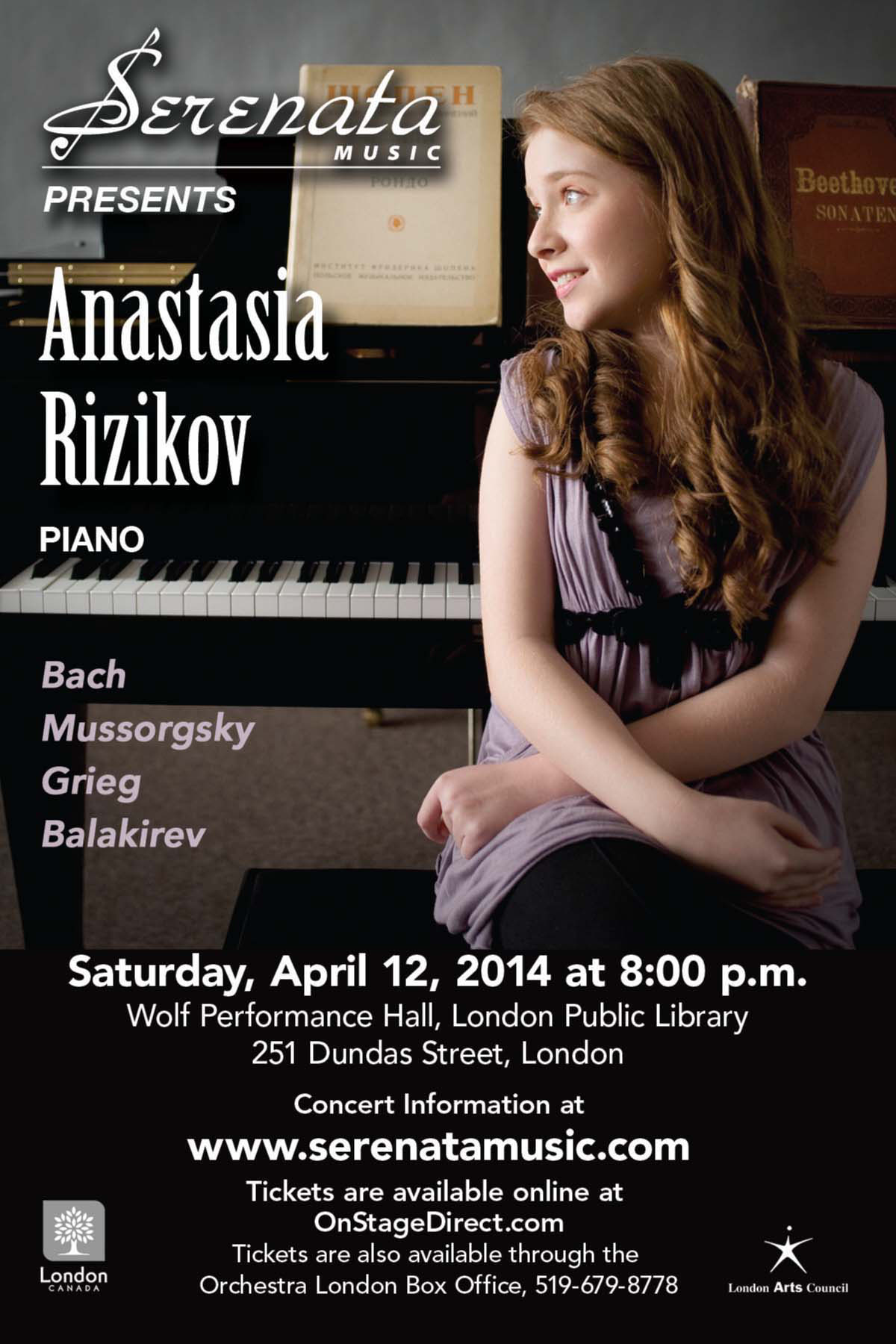 ANASTASIA RIZIKOV
Piano
Serenata Music is pleased to welcome back the young (now 15 years old) Canadian pianist Anastasia
Rizikov for her second appearance on our stage. Since her last performance she has won two major piano competitions in Italy and New York, and has been concertizing regularly in North America. In September of 2013 she presented 11 concerts in the Debut Atlantic series in Atlantic Canada. She recently delighted London audiences with her January, 2014 debut with Orchestra London. She returned to Halifax in February to perform with the Atlantic Symphony. Her talent has been recognized by the Glenn Gould foundation which donated a Yamaha grand piano to encourage excellence in her artistic development.
We are in for a splendid evening of diverse and challenging music consisting of Bach's Toccata and Fugue in E minor; Mussorgsky's Pictures at an Exhibition; Grieg's Sonta in E minor; and Islamey by Balakirev.

To learn more about Anastasia please see the Biographies page on our website.