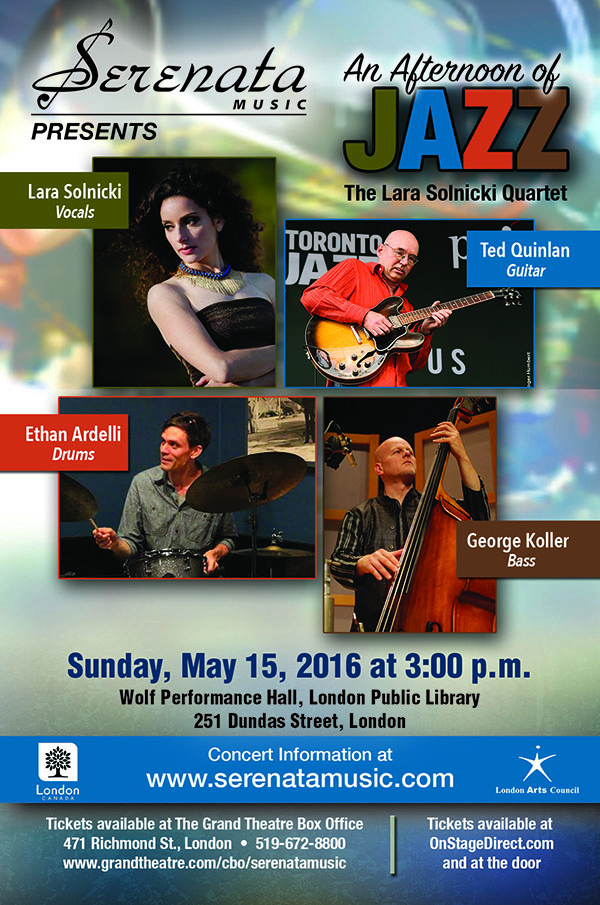 Continuing our All Canadian Season
Sunday, May 15. 2016, 3 P.M., Wolf Performance Hall.
An Afternoon of Jazz with
The LARA SOLNICKI QUARTET with award winning singer LARA SOLNICKI vocals, TED QUINLAN, guitar, GEORGE KOLLER, bass and ETHAN ARDELLI, drums.
Canadian vocalist, poet, and composer, LARA SOLNICKI brings her classically trained voice to the jazz idiom. She is a recent recipient of the Chalmers Foundation Career Development Grant from the Ontario Arts Council to study improvisation and composition for large ensemble. She has had #1 songs on Canadian jazz radio and web charts (Radio Canada, CBC) , and top 20 songs on international jazz web radio charts. She has released two internationally acclaimed CDs; "A Meadow in December" (2010, Independent) and "Whose Shadow?" (2014/2015, Inner Circle Music) which was listed in January 2016 as one of the Best Vocal Jazz releases of 2015 (Jazz History Online, USA).
Multi instrumentalist GEORGE KOLLER has over three decades accumulated hundreds of diverse performing, recording and producing credits. Beside the bass his playing of Indian stringed instruments -- Sitar, Sarode, Tanpura, and the violin-like Esraj and Dilruba—are featured in the motion pictures Such a Long Journey and Possible Worlds.
TED QUINLAN is respected as one of Canada's most multi-faceted jazz musicians, highly skilled as a solo jazz guitarist, session player, writer, and dedicated educator. He is the long-time head of the Guitar program at Humber College, one of North America 's most respected Jazz Studies institutions.
ETHAN ARDELLI Originally from Sydney, Nova Scotia, Ethan Ardelli is a freelancing drummer on the Toronto jazz scene. Since graduating from the University of Toronto in 2006, Ethan has had the pleasure of working with a who's who of the Canadian jazz scene as well as many acclaimed international artists. Ethan has played on two Juno award winning albums, Jane Bunnett's "Radio Guantanamo" and Mike Downes' "Ripple Effect". As well as leading his own group, Ethan is currently a member of several well known jazz groups. He teaches in the Humber Community Music Program.

SPECIAL NEWS!
*******************
2016

Monday, May 2, 8 P.M. Community of Christ Church, the London Promenade Orchestra, 1550 Brydges St, London.
************************
Sunday, May 8, 3 P.M., Dundas Street Centre United Church, London Community Orchestra, with Scott. St. John, violin and Sharon Wei, viola.
***************
Sunday, May 8, 2 P.M. Mocha Shrine, 468 Colborne St. The Mocha Shrine Historic Concert Band "Cabaret" with the Geriatric Gentlemen.
***********************
Saturday, May 14, 7:30 P.M. First-St. Andrews United Church, 350 Queens Ave., London. London Pro Musica Choir. An Evening at the "Proms", celebrating the music of World War II
*****************
Sunday, May 15, 3 P.M. Wolf Performance Hall, Serenata Music presents The Lara Solnicki trio. Lara Solnicki, vocals, Ted Quinlan, guitar George Koller, bass. An afternoon of jazz.
******************
Thursday, May 26, 8 P.M. Wolf Performance Hall, The Jeffrey Concerts, James Ehnes, violin, Andrew Armstrong, piano.
****************
Saturday, May 28, 8 P.M.
Sunday, May 29, 3 P.M. Wesley-Knox United Church, Karen Schuessler Singers, ABBA: Dancing Queen.
*****************
Saturday, May 28, 6:00 P.M.
New St. James Presbyterian Church Junior Amabile Singers & Amabile Da Capo Choir
8:00 pm Banting Secondary School Amabile Boys & Men's Choirs with special guests Leahy
******************
Sunday May 29, 2016 - 2 P.M. Aeolian Hall, London Concert Band, "May Merriment"
*****************
Sunday, May 29, 2:30 P.M.
First-St. Andrew's United Church, Amabile Youth Singers & Prima: Amabile Women's Choir.
***************
Saturday, June 4, 2016, 7:30pm London Pro Musica Choir. A reprise of our Glory, Hallelujah! concert Coldstream Community Centre, Coldstream, ON
*****************
Sunday June 5, Banting SS, Encore, The Concert Band.